Contributed by Anwaar Hussain

The author is an ex F-16 fighter pilot from Pakistan Air Force. A Masters in Defense and Strategic Studies from Quaid-e-Azam University of Islamabad. He now resides in Canada.
---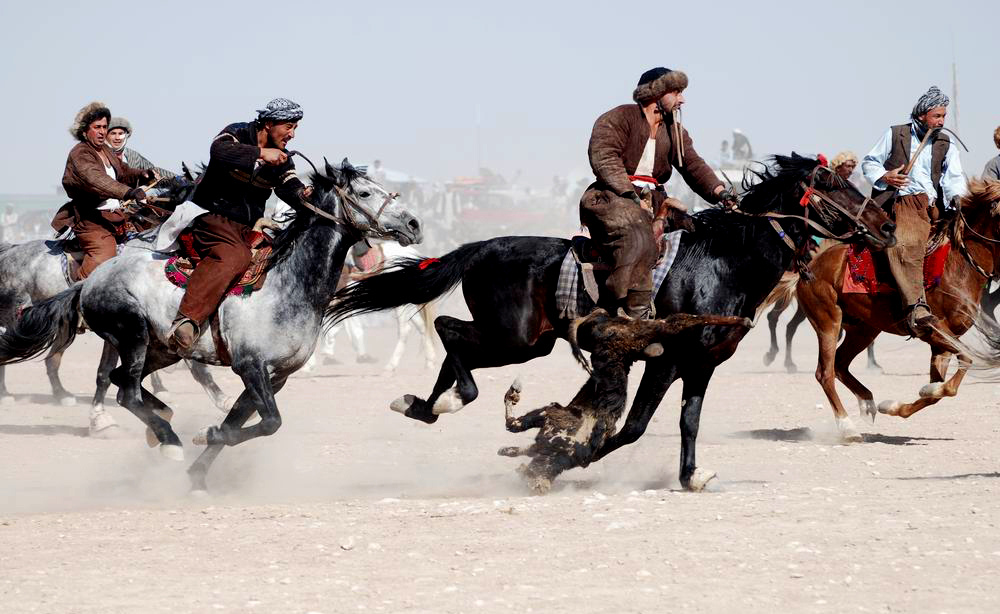 Though the empire-building dream is indeed being laid to rest after a thorough walloping in Afghanistan, yet the Americans are reluctant to leave Afghanistan. Why?
Let's have a look. But first, the past.
Despite incessant interludes of chaos, Afghanistan was not always this rough, blood splattered land of wild hordes charging their steeds in its desolate stretches. When Europe was backwards, impoverished and irrelevant territory, the region today called Central Asia, with Afghanistan at its southern tip and ancient trade routes interweaving it, was a land of much wealth, culture, scholarly attainment and prized international trade.
Writing way back in the year 1900, poet James Elroy Flecker summed up the view the Western world held of the region at the time;
"Sweet to ride forth at evening from the wells,
When shadows pass gigantic on the sand,
And softly through the silence beat the bells,
Along the Golden Road to Samarkand."
Dating back over 6000 years, some of the earliest indications of mining anywhere in the world come from Afghanistan. Afghanistan, for example, has always been a well-known source of precious and semi-precious stones and above all its lapis lazuli. The blue lapis lazuli stone in the famous funeral mask of the Egyptian Pharaoh Tutankhamen was reportedly exported from Badakhshan in Afghanistan to Egypt in 1300 BC.
Geological surveys were closed to the Western world during the Russian occupation of Afghanistan. The Soviets, however, did carry out sporadic mining assessments in the country neatly cataloguing these on charts and maps. Though much of this record was destroyed during the armed resistance to the Soviet occupation, and later during the messy Taliban rule, some did survive.
It was thus that in 2004, when the Americans undertook the so called reconstruction effort in Afghanistan, some geologists came across fascinating sets of old Soviet charts and data at the library of the Afghan Geological Survey in Kabul. The information therein more than hinted at major mineral deposits in the country.
That got the US Geological Survey team's antennae up. They promptly got an old Orion P-3 aircraft, configured it with advanced gravity and magnetic measuring equipment, loaded it up with the Russian survey charts and maps and began a series of aerial surveys of Afghanistan's mineral resources. They flew over almost 70 per cent of the country in the year 2006. The data they put together was so promising that they returned in 2007, this time with instruments that offered a 3-D contour of mineral deposits deep below the surface. In the end, what was started as a hunch turned out to be the most wide-ranging geological survey ever conducted in Afghanistan. The results, not shared internationally till then, were breathtaking.
Due to the universally slow pace of bureaucracy, however, files containing this astonishing array of records kept gathering dust for next the two years in US filing cabinets. It was only in 2009 that a Pentagon task force called 'Business Development Task Force' (whatever it stands for) stumbled upon this wealth of information. The task force promptly brought in teams of American mining experts and had them poring over the survey's findings. Eureka!! — was the end shout of the experts.
The Times broke the story in a screaming headline on June 13, 2010. Reportedly, the deposits are so rich in quality and quantity that according to the NYT "Afghanistan could eventually be transformed into one of the most important mining centers in the world." Having a worth of approximately one trillion US dollars, Afghanistan is said to be loaded with bulging veins of gold, copper, iron, cobalt and critical industrial metals like Lithium. The country's gross domestic product then stood at a puny $12 billion.
The biggest mineral deposits discovered till then were of iron and copper. Other finds included large deposits of niobium, a soft metal used in producing superconducting steel, and a range of rare earth elements. An internal Pentagon memo, according to the same report, stated that "Afghanistan could become the 'Saudi Arabia of lithium'." Gen. David H. Petraeus, the then commander of the United States Central Command called it a 'stunning potential'. Jalil Jumriany, an adviser to the Afghan minister of mines, said, "This will become the backbone of the Afghan economy."
Intriguingly, the Times slipped in another interesting report the very next day i.e. on June 14th. According to this one, the bidding for rights to explore the reserves could begin in as little as six months and that Afghan officials believed that there was even more wealth than announced so far. According to these officials, it was so because, "in part the surveyors did not examine closely the entire country and at least 30 percent of it has yet to be fully investigated."
The NYT articles of the 13th and 14th June surreptitiously raised two other issues. One, the Taliban could now fight ever more viciously for their country's untapped wealth. And two, regional actors like China too were likely to warm up to the idea of having these untold riches just in their backyard. Hinting, perhaps, that it wasn't wise to pull out altogether.
Hmmmmm !!!!!!
Well!!! One could have let the two stories go by as straightforward reporting but for one other report. In this report of 14th June, the viability of President Obama's plan to begin pulling out by July 2011 had been questioned. Ever-ready regional specialist Bruce Reidel of Brookings Institution, who helped formulate the administration's first Afghan strategy in early 2009 was reported as saying, "things are not looking good, there's not much sign of the turnaround that people were hoping for." While Mr. Reidel did say that pouring in more troops was politically infeasible, he also added, "pulling out altogether would make the United States vulnerable to a terrorist attack organized by Al Qaeda and originating in a Taliban-dominated Afghanistan."
Hmmmmm….. again.
The current American Administration too, which had promised a pullout in a rush of blood at the start, is increasingly finding out that the withdrawal may hurt her commercial interests badly. Trump and Co. perhaps realized that essentially it all boils down to this for the good old US of A. Cut and run and be damned, or stay and fight and be damned but have your pockets full by the time the bullhorn is sounded.
To the grand strategic thinkers of Pakistani variety especially, therefore, one has this to say; keep your dander up, but make haste slowly this time for no one is going anywhere any time too soon. Let the grand masters have their fill of the Manna first.
And to the poor Afghans unable to extract from the bowels of the earth what is rightfully theirs, this;
"God sends the meat but the devil sends the cooks."
---
Anwaar Hussain

About the Author: 

Anwaar Hussain is an ex F-16 fighter pilot from Pakistan Air Force. A Masters in Defense and Strategic Studies from Quaid-e-Azam University of Islamabad. He now resides in Canada. He started writing as a hobby some years back and has, since then, published a series of articles in The Pakistan Tribune, The Baltimore Chronicle, Defense Journal and a host of other prestigious publications and web portals. Other than international affairs, Anwaar Hussain has written extensively on religious and political issues that plague Pakistan.The reason for taking up the pen, in his own words, is, "For years I had been watching lies being peddled as truths in the name of God, king or country. I always felt that truth needed no crutches for it has neither a religion nor a nationality. It owes its loyalty only to its own unadulterated self. May the truth be our companion." 

He can be contacted at airdance@outlook.com
---
Disclaimer: The Eqbal Ahmad Centre for Public Education (EACPE) encourages critical and independent thinking and believes in a free expression of one's opinion. However, the views expressed in contributed articles are solely those of their respective authors and do not necessarily reflect the position or policy of the EACPE.